You are here
The Christmas market is Back, Bigger & More Fun Than Ever Before!
Start Date:
Saturday, 24 December 2022
The Christmas market is Back, Bigger & More Fun Than Ever Before!
December 24, 2022: The Sorbet Soiree is back again with their Christmas Market, a one-stop fashion and lifestyle curated event, in Delhi at the sunny winter lawns of Sunder Nursery on December 24 , 2022, with an open invitation to all to come and celebrate the Christmas weekend with them. The market brings together the best options in food, drink, fashion, music and art, with a whole host of family friendly activities to make the festivities a family friendly destination for all. Curated by the effervescent Geet Nagi, 
Fashion brands such as Miri, Jayde, Pink Soda Edit, Gulroz, Younglings, Midori by SGV, and many more will be present at the winter market, with their latest winter collections showcased at the Christmas event.
The famous Jamie's Pizzeria is sure to hit the right spot, with fresh and tasty hand-stretched pizzas. The best in town clean vegan food will be available at People of Tomorrow and other food joints like La Cantine, Atmosphere, Cakes and Crumbs, CheesePlease will be serving yummy desserts. Cocktail partners Jimmy's Cocktail will be serving up some best-to-soak-in-the-festivities cocktails, with beer and wine also present at the venue.
Fitness sessions with Boxfit as well as Aerial Yoga Performances, as well as a dedicated KidsZone to keep the younglings entertained throughout - there will be a Live Santa for them to make their christmas wishes known, a Bouncy Castle and other rides, as well as  children and adult favourite alike, the Santa Storytelling session. Not just that, but some enterprising kids will reprieve their industrious effort and have their own Christmas stalls up at the Sorbet Soiree Christmas Market as well.
Come and celebrate the holiday season of Christmas in a cheery way, with all the shopping and entertainment The Sorbet Soiree has in store for you!
Event Link on Paytm: https://insider.in/the-sorbet-soiree-christmas-market-dec24-2022/event
Date: 24 December 2022 | Saturday
Time: 11AM to 9PM
Venue: Sunder Nursery | New Delhi
Check out what's in store on IG @thesorbetsoiree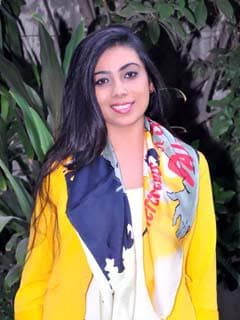 About the Founder/ Curator - Geet Nagi
Geet Nagi founded The Sorbet Soiree, a fashion and lifestyle exhibition that has taken place since 2014 in locations such as Delhi, Mumbai, Chandigarh, Goa, and more. Geet creates luxurious experiences and events with her passion for curating exhibitions and events. She also entered the children's market in 2022 and is a founding partner of Kidpreneurs, a project on youth entrepreneurship that organizes activities and experiences for budding businesspeople in schools. She has also helped young brands grow thanks to her passion for PR and marketing and her brand management strategies.
About Sorbet Soiree:
It is a one-stop fashion and lifestyle concept curated events with a lineup of designers founded by Geet Nagi in 2014. The recent success of the summer edition at the Hyatt in Delhi just attests to the success of the concept, and the diligent work put in by its curator.
Featured Events - View All
The latest events in malls - product promotions, celebrity visits, product launches, events for kids, band performances, DJ Nights, Festival Celebrations, Social Causes and more.