You are here
Pacific Group of malls decked up for the festival of lights
Pacific Group of malls decked up for the festival of lights
Pacific Group presently owns and operates 5 malls in North India
Pacific Group, the leading hospitality chain operating five shopping malls in North India has hosted massive Diwali décor installations in all their malls. The Group is presently running four malls in Delhi NCR, and one in Dehradun. The customer sentiment is much better and full of vigor this year due to the gap of two years from the pandemic. The mall management apart from being completely vaccinated has taken this celebratory season in a stride and has installed huge installations inspired from ancient mythological tale of Ramayana.  
Pacific Group has opened the doors of a new mall at NSP, Pitampura. The mall is fully decked up for Diwali, and the attraction of the Décor is a 15 ft high lord Ganesha statue in the central atrium, which implies the beginning of a new journey. Seeking the blessing of Lord Ganesha, Pacific NSP hopes to make a grand entry in the heart of customers. Mall is offering lot of benefits for their shoppers, with their campaign 'Iss Diwali Feel Alag Hai' on shopping of INR 7000 or more one gets Free Mehndi & nail makeovers before Karwachauth and there are assured gifts with every purchase, 8 lucky winners gets Diamond Pendants in weekly draws and one lucky winner gets a brand new BMW bike.
The malls of Pacific Group have been known for creating and establishing out of the box adornments on special occasions and festivals in larger than life manner. Pacific Group, D21 Dwarka mall  the ultimate fashion and entertainment destination, has installed a Shiv Dhanush this year of 24*8 feet, which is symbolic of the virtues of idealism and righteousness that we must learn to imbibe in our daily lives. The artwork of the Dhanush resonates with finesse and elegance. The whole theme and color combinations of the decor are absolutely breath-taking.
To continue the festive fervor, Pacific D21 mall is ready to take over the Diwali occasion with free Make-over and Mehendi vouchers for women starting from the Karwachauth weekend. Pacific D21 mall is also offering some amazing shopping offers and assured gifts worth ₹1 Crore for the duration of one whole month. The offers and assured gifts are awarded to Pacific Mall's visitors who are shopping during this festive season in malls for up to INR 7,000 and above. Bumper prizes like washing machine, microwave, and Royal Enfield bike are on bid.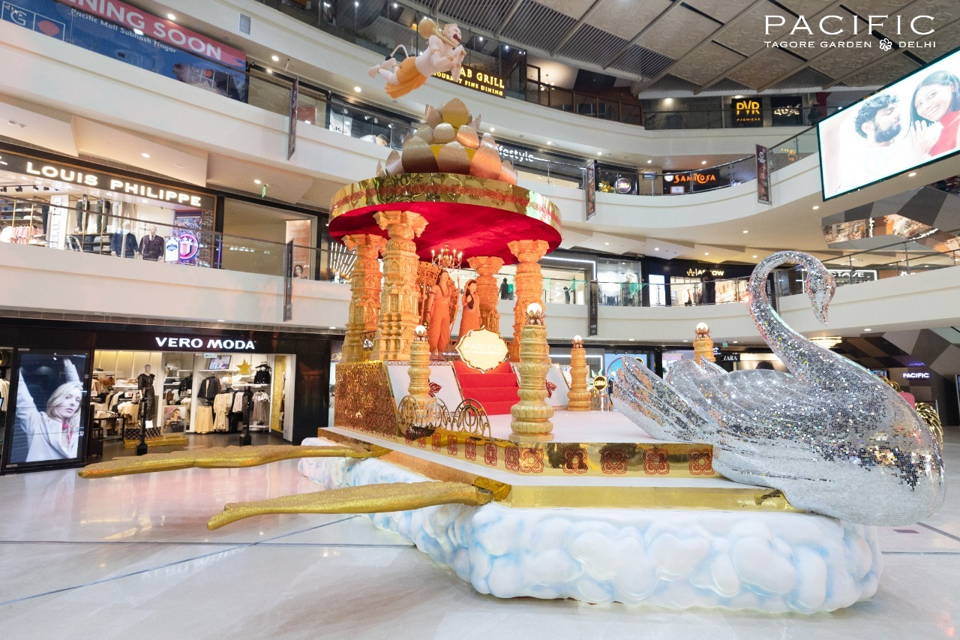 Pacific Mall Tagore Garden has unveiled a unique month-long campaign to bring together friends and family, naming it #YehDiwaliKhushiyonWali wherein they are giving assured giveaways including gift vouchers, gadgets, perfumes and diamond pendants. The mall at Tagore Garden has also installed a giant sized- Pushpak Vimana with dimensions of 32*28ft with idols of Lord Ram & Lakshman along with Goddess Sita, the beautiful flying chariot made by Vishwakarma for Brahma, but confiscated by Ravana from Kubera.  After Ravana's death, it was presented to Lord Rama for his journey back to Ayodhya. Since it took only 18 days for Lord Rama, Lord Laxman and Goddess Sita to reach Ayodhya from Lanka, the festival of Diwali is celebrated within 20 days of Dussehra.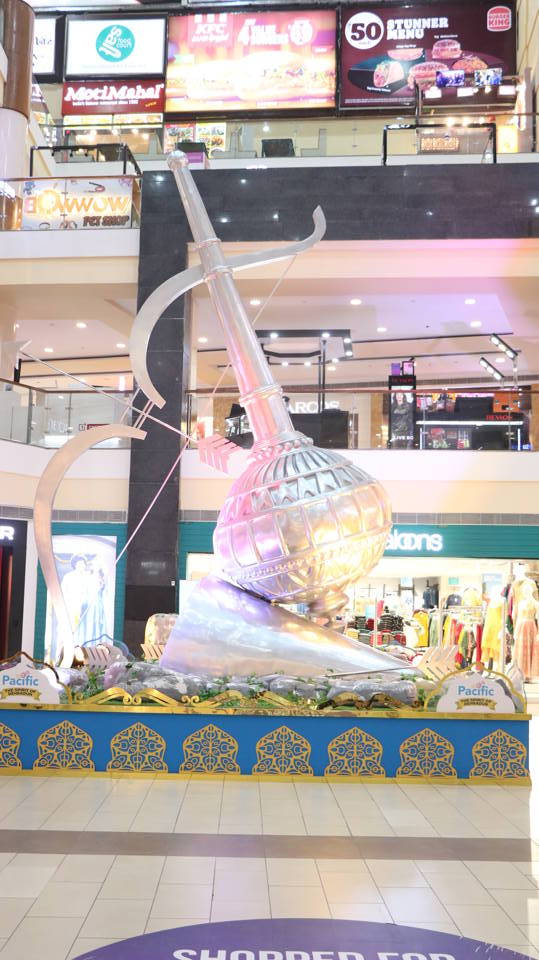 Pacific Mall Dehradun this Diwali celebrates the glorious legend of Lord Rama and Hanuman via their décor installation. It is a symbolic representation of Lord Rama (Bow and Arrow) and Lord Hanuman (Mace) through their most loved "astras" and their victorious journey of good over evil, by defeating Ravana. The Dehradun mall has a similar campaign of #YehDiwaliKhushiyonWali ongoing with lucrative discounts and deals for visitors. The offers at the mall include gift vouchers or hampers worth Rs 1250 on the shopping of Rs 15000, a gift voucher/hamper worth Rs 2500 on the shopping of Rs 25000, and a gift voucher/hamper work Rs 7500 on the shopping of Rs 50000; two lucky winners will also win a two-wheeler, apart from surprise gifts for every weekly highest shopper.